About National Transmission
National Transmission is a specialty shop that focuses on customers' drive line maintenance and repair needs. We recommend customers build a good relationship with their general repairs shop or dealership so we can work in harmony with them to build a better industry standard for consumers.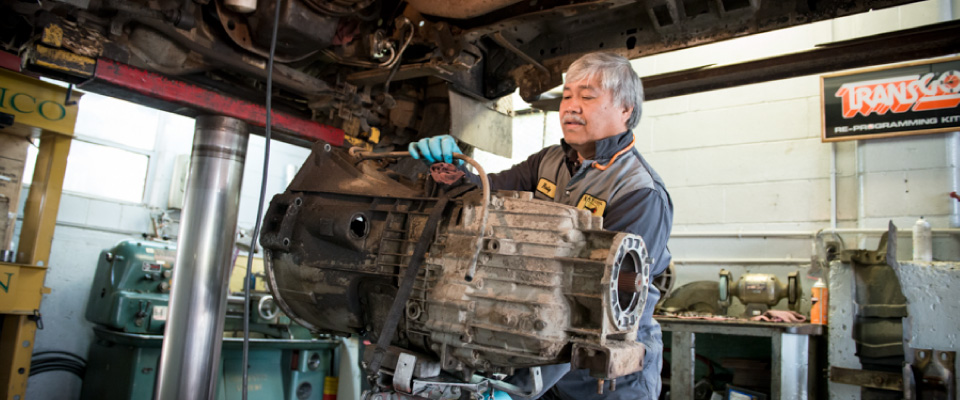 National Transmission was formed in 1978 by a group of local industry-leading automotive service personnel.
National Transmission has grown to include five transmission service centres in Alberta and offers a complete line of automotive transmission services, including preventative maintenance service, minor repairs and major repairs to rear-wheel drive, front-wheel drive, electronic and hydraulically controlled automatics, foreign and domestic; clutch service, repair and/or replacement; standard transmission service and/or repair; transfer case service and repair; as well as differential service and repair.
The centres are typically Owner/Operators that are local, long-term residents with strong interests in the automotive field. They are involved with supporting community service groups, jr. and sr. sports groups, health care groups and automobile special interest groups, to name a few.
Our professional technicians are continuously kept upgraded on technical issues via monthly bulletins issued from international automatic transmission rebuilders associations and they regularly attend technical seminars to stay up-to-date with today's changing marketplace of electronic advancements, updates, modifications and manufacturers' recalls.
The staff at National Transmission will provide a free road test evaluation of your drive unit's overall condition. They can then provide appropriate corrective service with parts that meet or exceed original equipment manufacturers' (OEM) specifications. They specialise in automatic and standard transmission repairs, front-wheel drive and four-wheel drive units, overdrive transmissions and computer-controlled transmissions, as well as work on drive lines, differentials and clutches. Other services include free towing, extended warranty packages, one-day service (in most cases), senior discounts, farm fleet discounts and payment plans.
Our years of experience in the automotive, and particularly the automotive transmission service industry, afford us the unique qualification to provide only the products and services that are the best value for our customers.
Call the centre nearest you for info and/or service for any of your automotive drive line needs.
To top